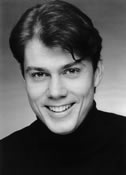 This week, we look at this week's upcoming Flute Choir concert with the amazing
contrabass flute
, and we chat with our String Chamber Ensemble about their upcoming concert.
The Question You Never Asked answers "What is a concertmaster?"
Answering this week's
5-Minute iPod,
we feature our choral conductor,
Greg Ristow
.
We speak with three of our seniors graduating from DePauw in May, and chat with Theatre Professor Tim Good about his work with the School of Music, producing Stephen Sondheim's
Into The Woods
this fall. And we talk to two of our voice faculty members,
Pamela Coburn
and
Valentin Lanzrein
, soloists in our final concert of the academic year!