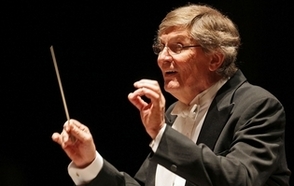 Joseph Flummerfelt
In this week's episode of
Music For Life
, we talk to Choral Director
Greg Ristow
about an upcoming visit by a bright star in the world of choral conducting, distinguished alumni
Dr. Joe Flummerfelt, '58
...
senior music student
Alex Diaz
throws his iPod away...
we answer a question never asked about guest conductors and big orchestras...
Time For Three visits the DePauw
School of Music Recording Studios
Dan Foster
gives us a peek at the program for Monday's
Jazz Ensemble concert
...
and hot off the heels of their electrifying performance and two-day residency, the members of
Time For Three
stop into the studio to tell us about working together in today's classical music world!
In this episode's Five Minute iPod segment, we hear a portion of the second movement, Adagio sostenuto, from Sergei Rachmaninoff's Concerto for Piano and Orchestra no. 2 in C Minor, op. 18, performed by the Moscow RTV Symphony Orchestra, under the direction of Vladimir Fedoseyev, with soloist Yekaterina Sarantseva.
From the CD "O Magnum Mysterium" by The Westminster Choir under the direction of DePauw alum Joseph Flummerfelt, performs Benjamin Britten's Festival Te Deum.
Time for 3 performs their piece "Philly Phunk" during a convocation in Thompson Recital Hall on Tuesday, March 12, 2013.
Rounding out the show is Time for 3 and the Fort Worth Symphony Orchestra, under the direction of Miguel Harth-Bedoya, performing Jennifer Higdon's Concerto 4-3, from The Fort Worth Symphony Orchestra's CD Take 6.